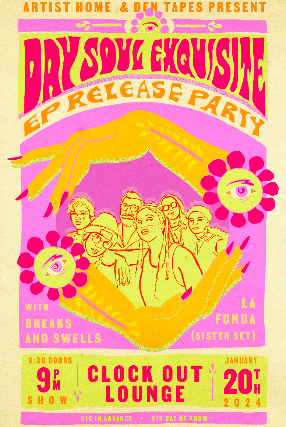 Artist Home and Den Tapes Present: Day Soul Exquisite (EP Release Party) w/ Breaks and Swells, La Fonda (sister set)
with Day Soul Exquisite, Breaks and Swells, La Fonda
Sat
January 20, 2024
Doors: 8:30 pm / Show: 9:00 pm PST
$15.00
Artist Home and Den Tapes Present:
Day Soul Exquisite (EP Release Party) w/
Breaks and Swells,
La Fonda (sister set)

Saturday January 20th 8:30 doors
$15adv/$18 dos
https://daysoulexquisite.bandcamp.com/musi
c
Day Soul Exquisite is a 6-piece band from Seattle, WA. Fronted by singer Francesca Eluhu, the QTBIPOC-led band is a mix of neo-soul, psychedelic r&b, and jazz.

https://breaksandswells.com/music
With influences ranging across the spectrum of Soul, Rock, Funk, Jazz, and Pop, Breaks and Swells are hard to pin down. What isn't hard to understand is the power and energy they bring to performances; convincing even usually hard-to-sway Seattle crowds to get down and dance. The band recently released their 2nd LP "Entomology" in February 2023.

https://lafondamusic.bandcamp.com/
La Fonda is an indie rock band fronted by sisters Valerie and Veronica Topacio. They create sonically atmospheric, shoegaze-inspired tracks falling somewhere between dream-pop and alt-rock. Their sophomore album We Are Infinite was released Spring of 2023 and dives heart-first into the emotional depths of their journey navigating sisterhood, the chaos of adolescence, and addiction while living in their hometown of Seattle.

Day Soul Exquisite
Breaks and Swells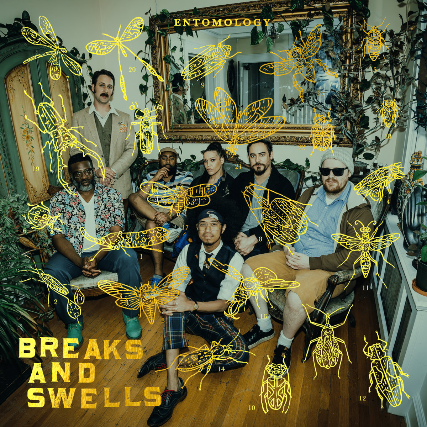 La Fonda