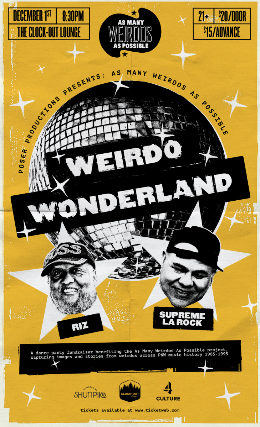 Poser Productions and Clock-Out Lounge Present: As Many Weirdos As Possible A Dance Party Fundraising Benefit
with DJ Riz Rollins, DJ Supreme La Rock
Fri
December 1, 2023
Doors: 8:30 pm / Show: 9:00 pm PST
$15.00
Poser Productions and Clock-Out Lounge Present: As Many Weirdos As Possible
A Dance Party Fundraising Benefit
Featuring DJ Riz & Supreme LA Rock

Friday Dec. 1st
8:30 PM doors 21+
$15 adv/$20 dos
https://www.manyweirdos.com/index
Join us for an unforgettable evening, featuring renowned Seattle DJs Riz and Supreme La Rock, celebrating the As Many Weirdos As Possible project, featuring a still life photo documentary and storytelling venture that commemorates the musical legacy of the Pacific Northwest.

This collaborative project captures the musical heritage of the PNW from 1985-1995, spotlighting the diverse individuals who shaped the area's music scene, including hip hop, grunge, graffiti artists and more. Five photographers are capturing portraits of influential figures at significant locations while gathering handwritten memories from that era. The project will culminate in a gallery event, and eventually a book.
About Poser Productions: Poser Productions is dedicated to preserving and celebrating the vibrant history of the PNW's music scene and beyond. They are sponsored by Shunpike, and the recipient of a 4Culture 2023 Arts Projects for Groups grant.

As Many Weirdos As Possible is a collaborative still life documentary project capturing the legacy of the Seattle by focusing on the people who made the music happen 1985-1995. All the music, all the genres - from hip hop heads to grunge, graffiti writers to record store cashiers - we were the music. And as Seattle continues to evolve into a tech town and the places where history happened are being displaced, we are honoring the Seattle that was, and helped it become all that it is now.
The name was given to us by Art Chantry, who asked if our plan was to "photograph as many weirdos as possible." Five photographers are taking portraits of noteworthy individuals who were influential in Seattle music history in places that tie them to their story. They are also asked to share a favorite memory from this time, in their handwriting, as we did pre-Internet, on an 8.5 X 11 piece of paper. These handwritten notes will accompany the individual portraits.
DJ Riz Rollins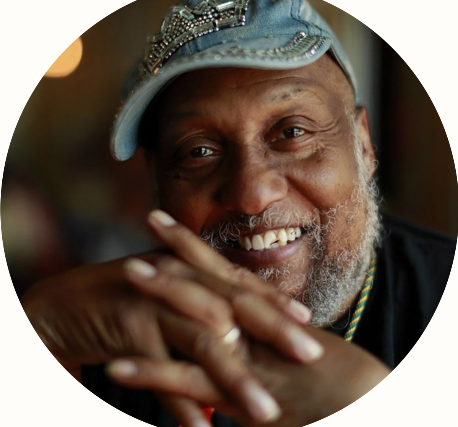 DJ Supreme La Rock