Clock-Out Lounge Presents: Eléré and The Pazific
with Eléré, The Pazific
Sat
May 20, 2023
Doors: 8:30 pm / Show: 9:00 pm PDT
$20.00
Clock-Out Lounge Presents: A Latin music celebration with Eléré and The Pazific
5/20 21+
doors 8:30
$20
https://www.thepazific.com/home
The Pazific creates tropical movement music with a latin psychedelic twist for people looking to feel so free they can't help but let loose. When our music comes on you'll be dancing before you know it, transported to a place of joy where you can connect with those around you.
The 8-piece band is led by Seattle-based duo Alex and Jefferson Rose. Much of their music is influenced by Alex's Mexican heritage and California upbringing, and Jefferson's time living and making music in Latin America and Spain.
Their current live show lineup includes:
Alex Rose - Vocals and Percussion
Jefferson Rose - Bass and Backup Vocals
Raoul Hardin - Drums
Danny Mendoza - Percussion
Sam Damage - Guitar
Jane Covert-Bowlds - Saxophone
Graham Cornwell - Trumpet
Brandon Hunter - Trombone
https://eleresalsa.com/home
Loudly embracing a philosophy that a young, hot and diverse Salsa band in Seattle is undoubtedly vanguard, Eléré presents a glimpse into the future of Salsa as a global music in Seattle and beyond.
An 8-piece salsa band founded in late 2019 by percussionist and vocalist Daniel "el buho" Mendoza, Eléré quickly took on a mixture of emerging and seasoned instrumentalists on the scene with the aim of pushing the music in new directions. Honoring the rich archive of Salsa and Latin Jazz, the group started off playing shows and parties throughout Seattle with arrangements of classic repertoire. Though still a young group, the band was able to hold strong through the closure of music venues during the coronavirus pandemic, directing their efforts towards preparing original music and arrangements.
Their original music, spearheaded by their musical director, guitarist and cuatrista Carlos "donde estoy" Snaider, contains messages of the healing power of nature, meditation and storytelling that is characteristic of Salsa lyrics, yet with specific homage to the Pacific Northwest roots of the group. All the while accompanied by tight horn lines and a rhythm section that embraces developments from modern jazz and timba, making the Eléré sound altogether fresh and captivating.
Eléré is the Yoruba word for orchestra, and refers to musical groups in spiritual or ceremonial settings. With their music and greater involvement in the Seattle music scene, the individuals that make up Eléré seek to honor their name with uplifting sounds that bring out the best of people in a vibrant and dynamic community, and bring about positive transformation in our inner and outer worlds.
Eléré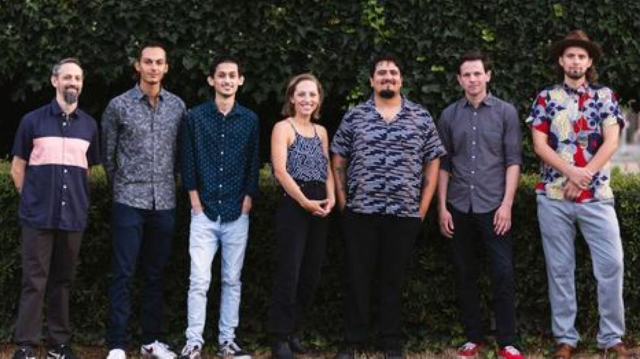 The Pazific