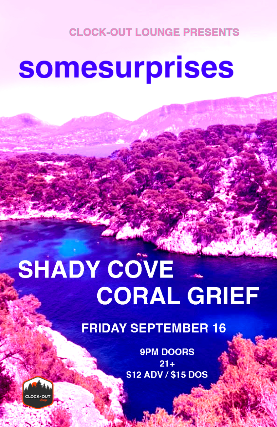 Clock-Out Lounge Presents: somesurprises w/ Shady Cove, Coral Grief
with somesurprises, shady cove, Coral Grief
Fri
September 16, 2022
Doors: 9:00 pm / Show: 9:30 pm PDT
$12.00
Clock-Out Lounge Presents:
somesurprises w/
Shady Cove
Coral Grief
Friday September 16 9pm doors 21+
$12adv/$15 dos
somesurprises is the brainchild of Seattle-based songwriter and guitarist Natasha El-Sergany. Once a bedroom project focused on spectral balladry and late-night exploration, somesurprises is now a dynamic four-piece live band. Motorik beats, reverb-drenched vocals, washes of fingerpicked guitars, and hazy synths expand El-Sergany's delicate and blissful songwriting.
With its 36th release, Drawing Room brings in a new wonder with somesurprises' self-titled debut LP, a treasure among pop treasures. The album explores a range of styles, from gradually intensifying meditative drones, to songs where the same moment never quite happens twice. As in previous cassette releases with fewer members, El-Sergany uses her ethereal voice as an instrument, no more or less central to the music than a guitar hook or a drumbeat. But the vocals and lyrics are more in focus than ever before. From shimmering cascades of reverbed guitar chords, to driving bass and percussion guiding guitar and synth freak-out outros, as a full band, somesurprises finds its fullest expression yet. The songwriting here, laden with effects and orchestral arrangements, reaches for more than navel-gazing, or (even shoegazing) and seeks, perhaps, through knowledge of the self, to guide the way out of one's own mind.
https://somesurprises.bandcamp.com/album/somesurprises
http://shadycove.bandcamp.com
https://coralgrief.bandcamp.com/
somesurprises
shady cove
Coral Grief