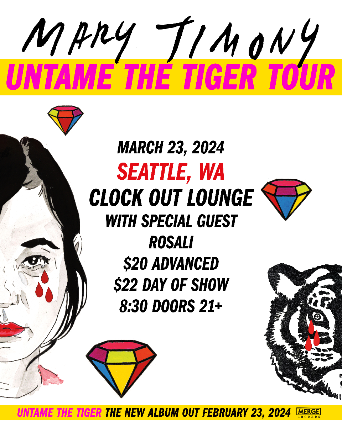 Clock-Out Lounge Presents: Mary Timony w/ special guest Rosali
with Mary Timony, Rosali
Sat
March 23, 2024
Doors: 8:30 pm / Show: 9:00 pm PDT
$20.00
Clock-Out Lounge Presents: Mary Timony w/ special guest Rosali
Saturday March 23rd
8:30 doors 21+
For more than 30 years, singer-songwriter and guitar hero
Mary Timony
has cut a distinctive path through the world of independent music, most recently as vocalist and guitarist of acclaimed garage-pop power trio
Ex Hex
(Merge) but also as a member of seminal post-punk band
Autoclave
(Dischord), celebrated leader of the deeply influential
Helium
(Matador), multifaceted solo artist (Matador, Lookout!, Kill Rock Stars), and a co-founder of supergroup
Wild Flag
(Merge). Described by Sleater-Kinney's
Carrie Brownstein
as "Mary Shelley with a guitar" and dubbed "a trailblazer and an innovator" by [Mary's former guitar student]
Lindsey Jordan a.k.a. Snail Mail,
Timony has distinguished herself as one of her generation's most influential guitarists and songwriters. Although she has remained a cult hero and critical favorite since the early '90s, appearing everywhere from 120 Minutes episodes to Coachella sets, Timony's many triumphs have long been counterbalanced by crippling doubt and self-nullification. Her fifth solo album, Untame the Tiger, approaches these emotions head on. Her first solo release in 15 years is a startling document of an artist fully coming into her own power during the fourth decade of her career. It is the product of lessons learned during life-altering struggle.
https://scissortail-rosali.bandcamp.com/album/trouble-anyway
Philadelphia-based artist
Rosali
makes songs that take their time in revealing their full power. What might first appear to be restrained, introspective compositions will stretch slowly outward, snagging your attention with a subtly sideways guitar lead or an exceptionally raw lyric you didn't catch the first time around. A child of two musicians, Rosali grew up as part of a large family that sang together and taught themselves various instruments, finding the earliest forms of her musical voice harmonizing and making up songs with her sisters. As an adult, Rosali merged this musical upbringing with an active involvement in Philly's experimental and D.I.Y. community. Her 2016 solo debut Out of Love was released on Siltbreeze, a long-running label that champions abstract noise and challenging listening. While Rosali's earliest work was far nearer to folk-informed rock than harsh sonics, it held an intensity of its own in its strange angles and unexpected vulnerability.
Mary Timony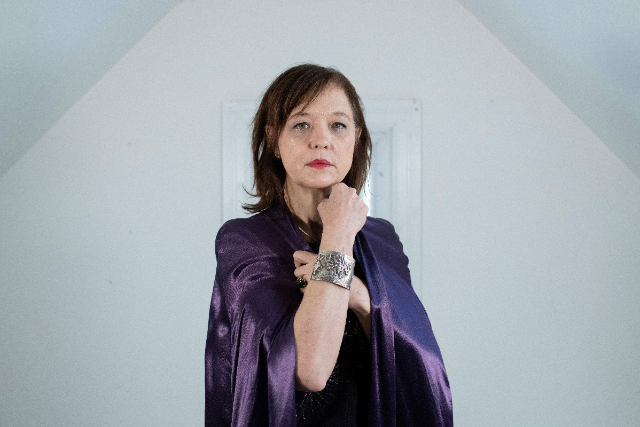 Rosali