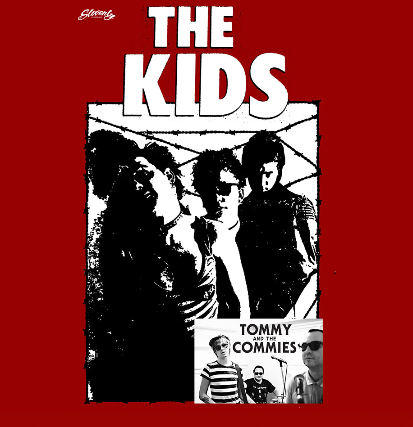 Clock-Out Lounge Presents: The Kids (Belgium), Tommy & The Commies (Canada), Clean Lines
with The Kids, Tommy and the Commies, Clean Lines
Fri
December 8, 2023
Doors: 8:30 pm / Show: 9:00 pm PST
$20.00
Clock-Out Lounge Presents: The Kids (Belgium), Tommy & The Commies (Canada)
and Clean Lines

Friday December 8th
8:30 doors
21+ $20adv/$23 dos
https://thekids.bandcamp.com/album/flabbergasted-live-at-ab-2001
The Kids are a Belgian punk rock band formed in 1976. They broke up in 1985, but came back together in 1996 for the soundtrack recording of the Belgian film Dief (Thief). They have been together ever since and still play gigs around the world.
https://tommyandthecommies.bandcamp.com/
From swingin' Sudbury, Ontario, CA (nada), here come TOMMY and the COMMIES. Swagger drenched youngster frontman Tommy Commy recruited Strange Jeff by dragging him into a bathroom stall during a punk show, playing him an inaudible demo on a phone. The Houle Two agreed to join forces for Tommy's first foray into the world of record making on the strength of giving "Spiral Scratch" era Howard Devoto a run for his dosh on the vox on any given holiday. This kid has GOT IT, BABY!
https://cleanlines.bandcamp.com/track/teenage-news
Clean Lines are steadfastly committed to bringing you the absolute finest in rock n' roll, power pop, and 70s-style punk rawk. We take our jobs VERY seriously and will not stop our quest until we have opened the eyes of the unknowing to the power and glory of the holy quadrumvirate of vox, guitar (well, two of them, actually...), bass and drums. LONG LIVE ROCK AND ROLL, LONG LIVE CLEAN LINES!!!
The Kids
Tommy and the Commies
Clean Lines