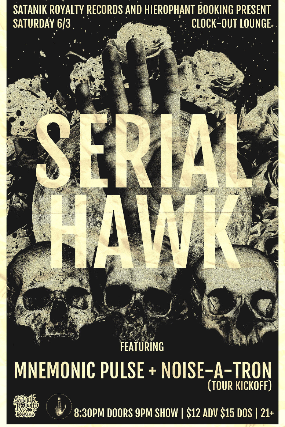 Satanik Royalty Records and Hierophant Booking Present: Serial Hawk w/ Mnemonic Pulse, Noise-A-Tron
with Serial Hawk, Mnemonic Pulse, Noise-A-Tron
Sat
June 3, 2023
Doors: 8:30 pm / Show: 9:00 pm PDT
$15.00
Satanik Royalty Records and Hierophant Booking Present: Serial Hawk w/ Mnemonic Pulse, Noise-A-Tron (tour kick off)
Sat 6/3
Doors 8:30 21+
$12 adv/$15 dos
https://serialhawk.com/album/static-apnea
Formed in 2010, Serial Hawk is
a crushingly heavy three piece from Seattle, Washington
. They bring a massive wall of sound that will bring you to your knees. Punishing riffs with destructive tone, a band that truly needs to be experienced live.
https://mnemonicpulse.bandcamp.com/
Portland, Oregon's Caitlin Love, aka Mnemonic Pulse, has been releasing heady and cinematic electronic music for three years now. On her SFI Recordings debut
Warning Sense
she dives deep and explores the cosmos via four heavy synth space drifts.
https://noise-a-tron.bandcamp.com/album/inherent-grey.
Noise-a-Tron is a two-piece experimental electronic band from Seattle, consisting of drummer/programmer Jason Bledsoe and keyboardist/sampler Lea Bledsoe. Noise-A-Tron's debut self-titled EP, released in August of 2010, was a perfect example of some of the bands finest attributes. It showcased their ability to churn out abrasive riffs layered with noise and sampling, all without being redundant. Their first full-length Vast Arcane released on Bleeding Light Records in 2015 further expanded on those ideas, and the full experience was formed. Or so they thought…The band was extremely happy with the full-length, but a much needed change was going to be essential if the band was to carry on. Lea had been struggling with tinnitus for over twenty years and the constant blasting of drums, cranked up amps, and keyboards just weren't going to work anymore. Instead of hanging it up for good, the band decided to go a different route. Now, Jason is primarily sampling his acoustic drum tones using a sampler while also incorporating electronic drum tones, and Lea is focused more on creating electronic soundscapes that are layered on top. The end result is something remarkable and a complete departure from their previous work, but it's still very much Noise-a-Tron. In addition to the changes in the band, they have also teamed up with artist Eric Nielsen to create a fully synced visual experience during live performances.
Serial Hawk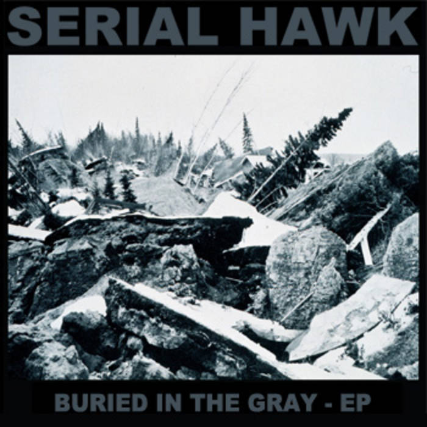 Mnemonic Pulse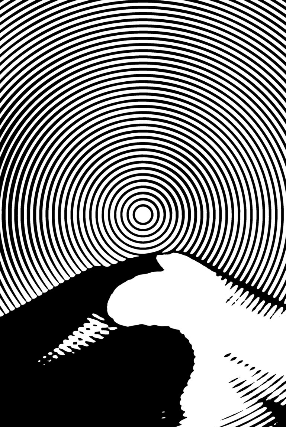 Noise-A-Tron