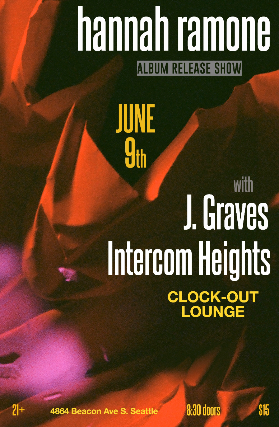 Clock-Out Lounge Presents: hannah ramone Album Release Show w/ J. Graves (PDX), Intercom Heights (Austin)
with hannah ramone, J Graves, Intercom Heights
Fri
June 9, 2023
Doors: 8:30 pm / Show: 9:00 pm PDT
$15.00
Clock-Out Lounge Presents:
hannah ramone Album Release Show
w/ J. Graves (PDX),
Intercom Heights (Austin)
Friday June 9th
Doors 8:30 21+
$15
https://hannahramone.bandcamp.com/album/some-kind-of-humanness
hannah ramone (they/them) is a singer/songwriter / teacher / parent / human / seeker
/ questioner / dreamer who writes / channels / summons songs for digging deep. They are accompanied on this self-healer artist journey by a band of space musicians who bring an electronic ambient indie alternative pop vibe to the live performances
https://jgraves.bandcamp.com/album/fortress-of-fun
The work of Portland, Oregon post-punkers J. Graves is caught between the darkness of various emotional traumas and a musically buoyant approach to overcoming hardship. Streaks of wiry guitar and propulsive percussion provides the backdrop for narratives detailing heartache, regret, and anger — and maybe even the stray bit of joy. Channeling the unfiltered emotion of early Sleater-Kinney and Yeah Yeah Yeahs, the band — comprised of singer-guitarist Jessa Graves, bassist Kelly Clifton, and drummer Aaron MacDonald — mold their sinewy sound around bursts of intimate revelation and universal experience…" @bpmny
https://intercom.bandcamp.com/album/night-measures-2
Harris Thurmond is proud of the bands he has graduated from, but he'd rather look forward. It's hard to blame him. His new project, Intercom Heights, shines with the joy of an artist discovering a new source of creativity, of a songwriter finding collaborators equally obsessed over a collective vision. Thurmond was an integral part of the Seattle music scene during the grunge years and his credits are nothing to scoff at, playing guitar and writing in Hammerbox, Orbiter and Sanford Arms, but he's been in Austin for 15 years. He's seen the same thing here: The city has changed, the scene has evolved, and he's been creating moving art through it all.
Thurmond joined a band in Austin called New Roman Times, who put out three albums, two of which Thurmond was a key contributor on. Though the band fell apart, Thurmond found great joy in making music with the group, particularly Josie Fluri, who played bass and sang. After the band split, Thurmond did what he always did: write. He was inspired by the interplay of male and female harmonies, that perfect moment at which they meld and form something entirely new and unexpected. When Fluri approached Thurmond to gauge his interest in a new project, he immediately found a fit for the new music he was working on. "When Josie first said, 'I would love to do something together again,' that became an important motivating factor for me." They found the group's third member, Meg Bernhard (a former member of Black Books) and Intercom Heights was born a short while later. The band's forthcoming debut record, Night Measures is a prime example of what happens when three musicians find their platonic collaborators.
hannah ramone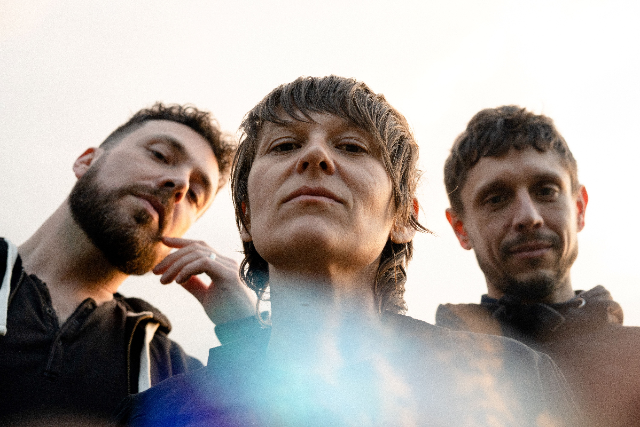 J Graves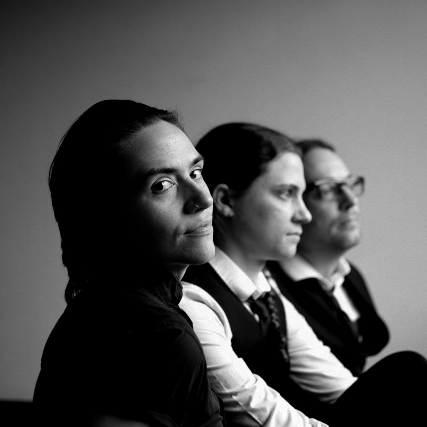 Intercom Heights