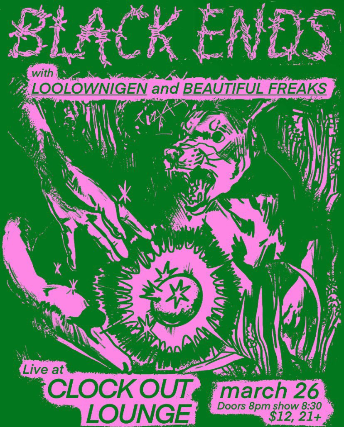 Clock-Out Lounge Presents: Black Ends w/ Loolowningen (Tokyo), Beautiful Freaks
with Black Ends, Loolowningen, Beautiful Freaks
Sun
March 26, 2023
Doors: 8:00 pm / Show: 8:30 pm PDT
$15.00
Clock-Out Lounge Presents:
Black Ends
Loolowningen (Tokyo)
Beautiful Freaks

Sunday March 26 8pm doors 21+
$12adv/$15 dos
https://blackends.bandcamp.com/
http://www.loolowningen.com/
The Zukkoke trio (of Groove) will be performing in the spring of 2023 for their 5th trip to America. I feel like I say it every time, but the longest ever 31 performances + α, the distance to New Orleans, Atlanta, Colorado, and Boise for the first time is the longest (maybe it's about 13,000km?), and gasoline is finally getting a little cheaper. It's cheap, but prices are crazy, and the exchange rate has fluctuated since last year, so it's still a bit of a gambling tour. This time, the first release of 12 inch "PAREIDOLIAS" in his career, the release of "ÖKUMENE" cassette, which was only digital until now, the production of color T-shirts, the festival, and the split short with Seattle's top prospect Black Ends. Full of new challenges such as tours.
I feel like I say this every time, but health first, don't let your guard down, be careful not to drink too much IPA. Carrying Tokyo Alternative and DEAF TOUCH RECORDS without permission, they will steal the hearts of young people from all over the world! This time as well, we plan to upload the tour in real time to SNS etc. as much as possible at a level where wifi is burnt, so please take this opportunity to follow us on various SNS. In addition, you can buy various Lu Rouse sound sources on Bandcamp, and if there are any unsold new T-shirts or vinyl, I will take them home.
https://www.facebook.com/TheBeautifulFreaksMusic
Black Ends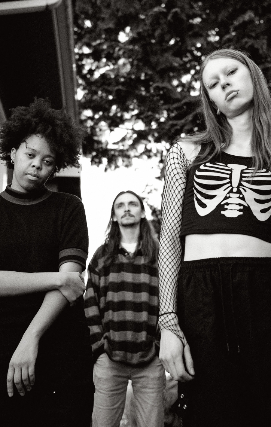 Loolowningen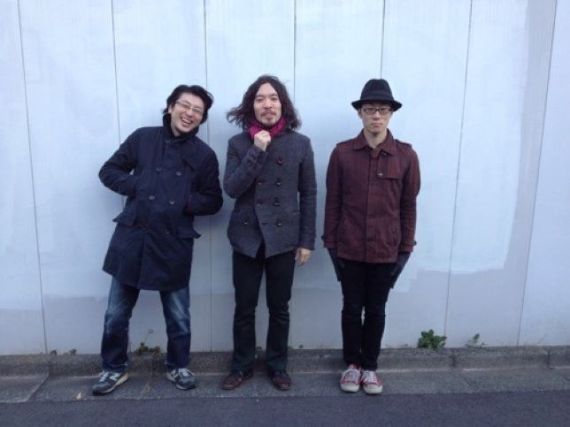 Beautiful Freaks