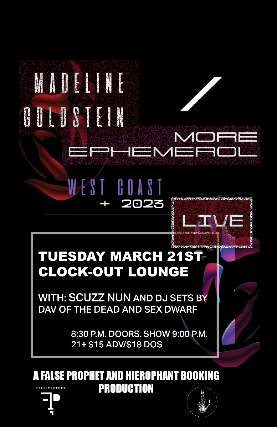 Hierophant Booking and False Prophet Present: Madeline Goldstein w/ More Ephemerol and DJ sets by DJ Dav of the Dead and DJ Sex Dwarf
with Madeline Goldstein, More Ephemerol
Tue
March 21, 2023
Doors: 8:30 pm / Show: 9:00 pm PDT
$18.00
Hierophant Booking and False Prophet Present:
Madeline Goldstein
More Ephemerol
DJ sets by Dav (DJ Dav of the Dead) and Charlotte (DJ Sex Dwarf)
from Nox Novacula

Tuesday March 21st
8:30 doors 21+
$15adv/ $18 dos
https://madelinegoldstein.bandcamp.com/
Formally of synth-tinged Portland band FRINGE CLASS, front woman Madeline Goldstein went solo in 2019 having discovered Ableton to free herself of the traditional band format.
Relocating to Los Angeles, her debut 'Forget This' in early 2020 album collected a variety of sonic electronic experiments with the vocal presence of Julee Cruise captured on 'Dreams',
While hazier impressionistic overtures emerged from the opening track 'A Feeling' and there were also the shimmering soundscapes of 'Control', 2021's 'Lost In Heaven' let in some sparkle and acted as a stopgap single before 2022's 'One More Day' signified a revitalised approach in more song-based structures. With brighter synth hooks amongst the dreampop and a deeper vocal register in a fabulously delivered performance recalling Mari Kattman or Megan Louise, it was undoubtedly a step forward.
Her best yet, Madeline Goldstein's latest single 'Seed Of Doubt' is the first song from the soon-to-be-released 'Other World' EP that promises a narrative on "the restlessness of alienation and isolation,he longing to move, to feel power, and to flee". It is a brooding slice of gothwave in a manner akin to LEATHERS, tinged with some ghostly allure thanks to a haunting soprano delivery.

Despite the sense of unease, like all good gothic-flavoured tunes, there's a romance in the vulnerable uncertainty while chilling Numan-esque synth passages point towards visions of castles and forests as the song's rhythmic lattice builds. This imagery is captured in the video put together by Goldstein and Chad Fjerstad which begins with grainy and nocturnal street footage in the intro before snapping into daylight and rock formations to portray isolation in nature. The visual accompaniment jumps around to show a forlorn Goldstein sitting in a hotel room while also containing grainy night vision footage.
The self-composed 'Seed Of Doubt' has been produced and mixed by Matia Simovich whose credits have included BOY HARSHER and BODY OF LIGHT, as well as one-time TANGERINE DREAM member Peter Baumann.


https://moreephemerol.bandcamp.com/




Madeline Goldstein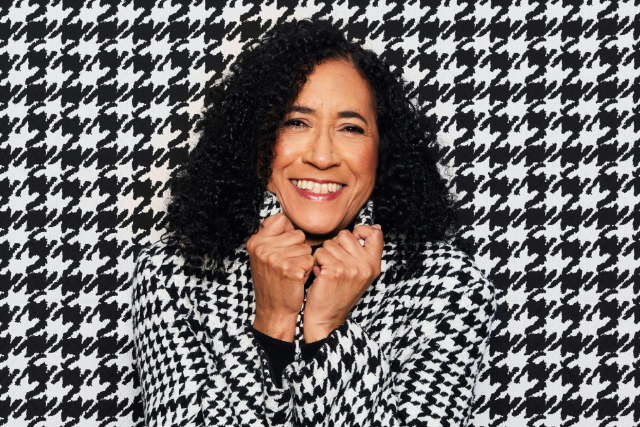 More Ephemerol