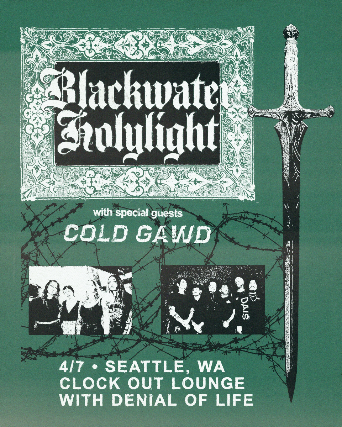 Clock-Out Lounge Presents: Blackwater Holylight w/ Cold Gawd, Denial of Life
with Blackwater Holylight, Cold Gawd, D.O.L.
Fri
April 7, 2023
Doors: 9:00 pm / Show: 9:30 pm PDT
$20.00
Clock-Out Lounge Presents: Blackwater Holylight
w/ Special Guests
https://coldgawd.bandcamp.com/
https://denialoflife.bandcamp.com
Empty surrounds all of me. It's a poignant line from the third album by Blackwater Holylight that encapsulates the search for self when suddenly everything has changed. There's a theme of processing vast personal trauma throughout Silence/Motion that eloquently — both lyrically and musically — and simultaneously embodies the crushing emptiness, sorrow, strength and rebuilding of recovering from personal devastation. "There was so much grief both in the world and interpersonally during the process of creating Silence/Motion," says vocalist/bassist Allison "Sunny" Faris. "The four of us gave one another more space to be ourselves, to experiment with each other's ideas and to be gentle with one another more than we ever have before. So, we knew this tenderness would manifest in extremely honest arrangements, and I think that you can hear that throughout the record."
Curiously, considering the dark times in which it was created, this is the band's most melodic and catchy music so far. Blackwater Holylight, as the name suggests, is all about contrasts: It's a fluid convergence of sound that's heavy, psychedelic, melodic, terrifying and beautiful all at once. And, Silence/Motion finds the band honing those contrasts, letting ideas and moods fully develop from song to song, rather than filling every song with a full range of their capabilities. It allows the band to
go fully prog-rock here, and simply stay hushed and intimate there. There's a new confidence to the band in how seamlessly they wield their stylistic amalgam.
"Writing this album was extraordinarily difficult emotionally, however it did come to fruition fairly quickly," Faris says. "In the past, the theme of vulnerability has always been a big player and it definitely showed up full force while writing this album."
Blackwater Holylight recorded the album as a four piece: Faris on vocals and guitar (on "Silence/ Motion", "MDIII", "Around You" and "Every Corner") and bass for the remainder, Sarah McKenna on synths, Mikayla Mayhew on guitar (and bass when Faris plays guitar) and drummer Eliese Dorsay.
New second guitarist Erika Osterhout will perform the songs with them live. For Silence/Motion the band chose to work with a producer for the first time, bringing in A.L.N. (of Mizmor, Hell) to produce, along with recording engineer Dylan White — who also helmed their previous album Veils of Winter
(2019) — at Odessa Recording Studio in Portland, OR. Guest vocals on album opener "Delusional" are by Bryan Funck (Thou.) Mike Paparo (Inter Arma) and A.LN. (Mizmor, Hell) lend guest vocals to album closer "Every Corner."
Blackwater Holylight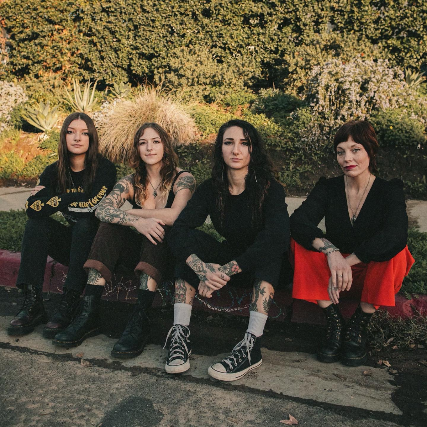 Cold Gawd