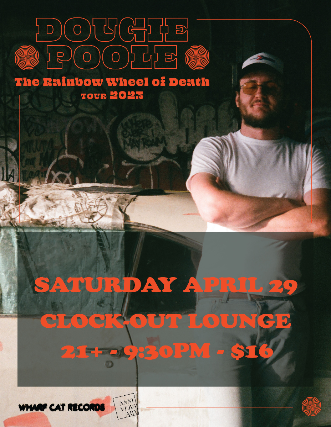 The Crocodile Presents: DOUGIE POOLE w/ Westmoreland
with Dougie Poole, Westmoreland
Sat
April 29, 2023
Doors: 9:00 pm / Show: 9:30 pm PDT
$16.00
Saturday 04/29/23
The Crocodile Presents:
DOUGIE POOLE
w/ Westmoreland
$16 ADV / $18 DOS
9:00pm doors / 9:30pm show
21+
https://www.dougiepoole.com/
https://dougiepoole.bandcamp.com/
A country songwriter from Brooklyn's indie underground, Dougie Poole blurs the lines between genre and generation on his third solo album,
The Rainbow Wheel of Death
. Rooted in sharp songwriting, Poole's golden baritone, and the organic sounds of a live-in-the-studio band, it's a classic-sounding record for the modern world, stocked with songs that make room for everything from old-school synthesizers to contemporary storytelling.
The Rainbow Wheel of Death
's title nods to the colorful pinwheel that appears onscreen whenever a computer's application stalls. For Poole — who found himself working as a freelance computer programmer once the pandemic brought his touring schedule to a temporary halt in 2020 — it's also a reference to the holding pattern that's left much of society feeling stuck, unable to move ahead in an uncertain world. That feeling was pervasive when he began writing these nine songs, finishing the first handful of tracks in his New York City bedroom and wrapping up the songwriting process in the recording studio itself, this time surrounded by a band of collaborators and instrumentalists.
Once hailed as the "patron saint of millennial malaise" for his sardonic wit and topical, tongue-in-cheek songwriting, Poole broadens his reach here. He fine-tunes his genre-bending approach to country music, too, with
The Rainbow Wheel of Death
reaching far beyond the genre's boundaries for new sounds and unexpected textures. "High School Gym" builds a bridge between 2020s lo-fi textures and 1980s pop vibes, while "Must Be In Here Somewhere" — whose narrator sits at a lap top, searching through "every server burning in North Carolina" for a digital souvenir of a long-lost relationship — mixes modern concerns with classic country instrumentation. If records like 2017's
Wideass Highway
and 2020's breakthrough release
The Freelancer's Blues
told stories about uninspired Millennials languishing in dead-end jobs and no-good relationships, then
The Rainbow Wheel of Death
focuses on more universal issues like mortality, love, and the passing of the time.
https://westmoreland.bandcamp.com/
Latino Ballroom is the debut LP from Westmoreland, the project of Seattle-based singer, songwriter, and multi-instrumentalist Zach Alva. Recorded in a week in Silsbee, TX, the album deals with the passing of his father and examines his feelings surrounding grief, family, and love. The record's sound is steeped in a wide range of cultural influences, including folk-rock, jazz, and country, with the title referencing his experience as an Indigenous and Latino artist creating in what are predominantly white music spaces. By exploring these themes, Zach has produced an incredibly personal yet complex album.
Dougie Poole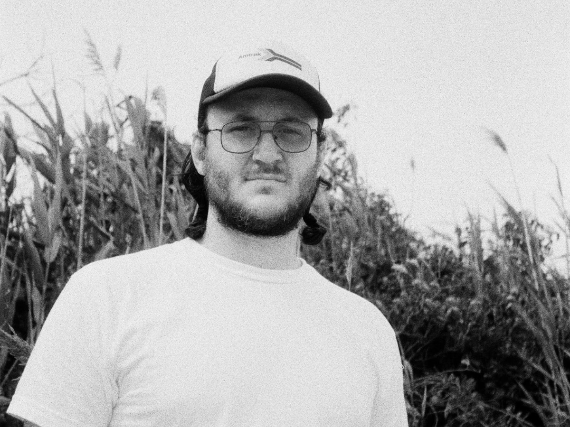 Westmoreland