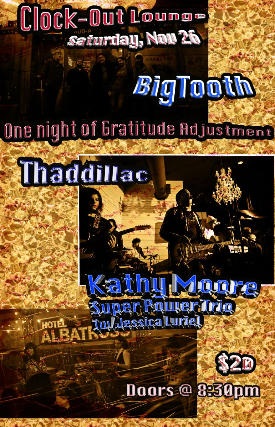 Clock-Out Lounge Presents: Big Tooth, Thaddillac, Kathy Moore and Super Power Trio w/ special guest Jessica Luriel
with Big Tooth, Thaddillac, Kathy Moore Super Power Trio
Sat
November 26, 2022
Doors: 8:30 pm / Show: 9:00 pm PST
$20.00
Clock-Out Lounge Presents: Big Tooth w/ Thaddillac, Kathy Moore Super Power Trio
w/ special guest Jessica Luriel

Saturday Nov 26th 8:30 doors 21+
$20 cover
BIG TOOTH is a rock band founded by luminary musicians ever-present in Seattle's eclectic music scene. From tear-jerker Americana to Yacht Rock, Jangle-Pop, Arena Rock, and everything in between, BIG TOOTH's rich vocal harmonies, top-notch songwriting, refined musicianship, and meaningful, positive lyrics steal hearts and bring crowds together.
https://bigtoothmusic.bandcamp.com/releases
Thaddillac (aka Thaddeus Turner) has been tearing up the Seattle music scene for years as both a live performer and respected studio musician. Often compared to the diverse guitar stylings of Jimi Hendrix, Prince and Peter Frampton, Thaddeus Turner's trademark guitar playing is the pillar of the West Coast music scene. Combining the beauty of traditional soul with the power of rock, mixed with his talk­box stylings, Thaddeus has gained a loyal national following. As lead guitarist for the Seattle Heavy Soul band Maktub, Turner has received glowing praise from Rolling Stone Magazine, NPR and the Seattle Times. Turner has toured with such notables as Cherrywine, Stone Gossard from Pearl Jam, Digable Planets, as well as with Dave Matthews and India.Arie. His versatility as a guitar player has gained him national recognition for his unique sound and passionate playing.
Born in Seattle to a musical family, Thaddeus got his start at the age of 3 on the keyboards, but quickly parlayed that into a passion for the strings. He grew up playing in church with his family. Turner's music genes run deep.
After years of delivering legendary guitar for bands such as Maktub, Digable Planets and Brad, Thaddillac launched his debut solo album: Feleetfoot Broham. His first solo project showcased the range of Funk, Soul, Techno and of course screaming Rock guitar that has been a hallmark of Thaddillac's past projects.
https://www.youtube.com/watch?v=5IC1dPGecus
https://kathymoore.bandcamp.com/
Big Tooth
Thaddillac
Kathy Moore Super Power Trio