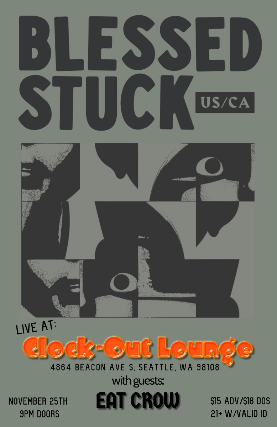 Clock-Out Lounge Presents: Stuck w/ Eat Crow
with Blessed, Stuck, Eat Crow
Fri
November 25, 2022
Doors: 9:00 pm / Show: 9:30 pm PST
$18.00
Clock-Out Lounge Presents:
Stuck
w/ Eat Crow

Friday Nov. 25th 9pm 21+
$15 adv/$18 dos
https://blessedtheband.com/
Blessed's sophomore release, "Circuitous", cements and expands on their status as a band's band: a patient, eclectic career outfit guided by the intense pursuit of an internally-dictated creative agenda. Here, the group has sharpened their strengths, bringing an ever-growing depth of songwriting and artistic evolution to their craft.

Composed from hours of jam material and hundreds of demos, "Circuitous" comprises eight tracks that sprawl and thrash and burst and fall — a sweeping, hyperreal, industrial art-rock tragedy rendered in walls of noise, controlled drums, meandering ambience, and staccato syncopation. The record speaks on agoraphobia, isolation, grief, the hyper-control of capital and the numbness it breeds.
credits
releases October 28, 2022
https://www.stuckchi.bandcamp.com/album/change-is-bad
Eat Crow