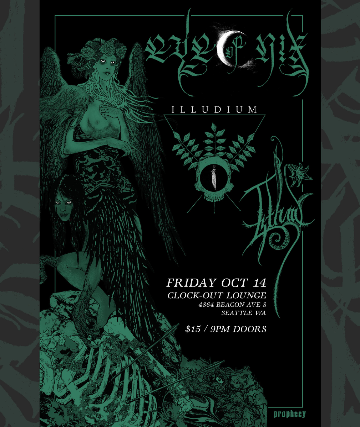 Clock-Out Lounge Presents: Illudium w Eye of Nix Izthmi
with Illudium, Eye of Nix, Izthmi
Fri
October 14, 2022
Doors: 8:30 pm / Show: 9:00 pm PDT
$15.00
Clock-Out Lounge Presents
Illudium
Eye of Nix
Izthmi
Friday Oct. 14th 9pm 21+
$15
Californian dark dreamgazeprogenies
ILLUDIUM
and post-black metal mystics
EYE OF NIX
will join forces for four limited appearances
this autumn
(and one extra show for the latter) to bring their dynamic and lush sounds to you. This is the
first chance
to catch both bands performing their
current albums "Ash of the Womb"
and
"Ligeia" live
.
ILLUDIUM comment: "With these select performances, we will be bringing 'Ash of the Womb' to a live audience for the first time through a series of specially curated shows – and the same holds true for our friends Eye of Nix and their album 'Ligeia'", frontwoman Shantel Amundson writes.
"The billing for each one of these dates is truly outstanding, and we are thrilled to head out with Eye of Nix on this West Coast tour. See you all on the road!"

EYE OF NIX announce: ""After such a long time of wondering, hoping, and planning, we are excited to be on the road with songs from our most recent album 'Ligeia' at last", singer and guitarist Joy Von Spain adds. "To acknowledge and celebrate reaching the milestone of a decade playing as a live band, we'll also include a gem from a previous album – and bring out an epic new work to sink your teeth into.
Joining us for this sojourn will be our friends Illudium, and we're feeling inspired by sharing the stage with such emotive and passionate artists. Each night on the tour has been crafted to take the listener on a journey that must be experienced live. We look forward to seeing all of you once again!"
https://illudium.bandcamp.com/album/ash-of-the-womb
Illudium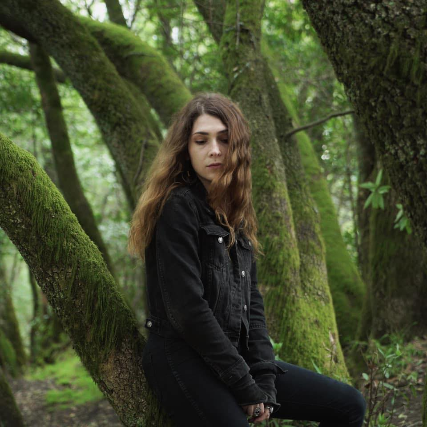 Eye of Nix