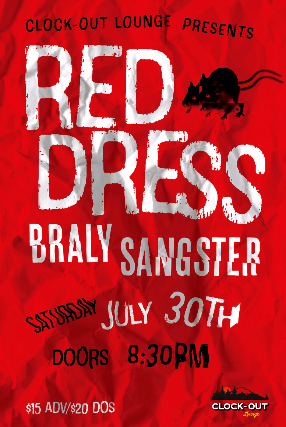 Clock-Out Lounge Presents: Red Dress w/ Braly Sangster
with Red Dress, Braly Sangster
Sat
July 30, 2022
Doors: 8:30 pm / Show: 9:00 pm PDT
$20.00
Clock-Out Lounge Presents:
Red Dress w/ Braly Sangster
Saturday July 30th
8:30pm doors 21+
$15adv/$20 dos
Any live-music lover who's lived in Seattle long enough has seen Red Dress. In fact, it's likely their parents-or grandparents have seen the band play. Throughout their career they've attracted punk rockers, hippies, drunks, blues aficionados, art-rockers, probably a few metalheads and everyone in between. Despite their long-running history, the band is still one of the most creative and relevant bands working the clubs, bars and festivals in and around Seattle. They do what they do better than anyone else; they always have. Red Dress infuses absurdity with the pure joy of funk, jazz and R&B. The result is far from what one would expect from looking at it on paper. This isn't a retread of the typical whitebread tribute to a style long out of date. This isn't a goofy pastiche of kitsch and nostalgia. This is as real and original as things get. Producer Conrad Uno Producer Conrad Uno (
Love Battery, Young Fresh Fellows, The Presidents of the United States of America
, etc.) hit the nail on the head when he described Red Dress "Captain Beefheart meets James Brown."
This year's line up is fresh out of the studio with a new album and includes John Olufs and Pete Pendras on guitars; Steve Peterson and Keith Lowe make up the rhythm section; Gary Minkler is still the frontman.
https://youtu.be/poIfJ9YGjFk
Braly Sangster is a collaboration between Seattle Musicians Johnny Sangster (Neko Case, Mudhoney, Tripwires) and Leslie Braly (Pineola.) Playful, reflective lyrics; layered harmonies; articulate guitar.
https://bralysangster.bandcamp.com/
Red Dress
Braly Sangster