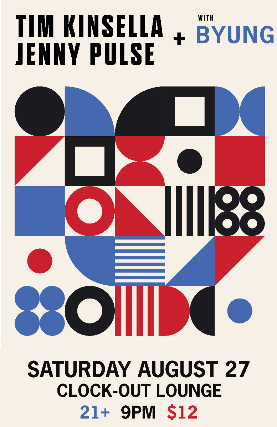 Crocodile Presents: Tim Kinsella/Jenny Pulse w/ Byung
with Tim Kinsella and Jenny Pulse, Byung
Sat
August 27, 2022
Doors: 9:00 pm / Show: 9:30 pm PDT
$12.00
The Crocodile Presents:
TIM KINSELLA / JENNY PULSE
Byung
​Saturday 08/27/22
$12 ADV / $15 DOS
9:00pm Doors / 9:30pm Show
21+
We are
Tim Kinsella
and
Jenny Pulse
based in Chicago, IL.
We claim no element of our sound as our own.
We simply curate the many who've come before us & present our responses in the varying ratios that we intuit.
We are dedicated to hauling our cumbersome unconsciouses into our conscious minds in hopes of amplifying our degrees of self-determination.
Each day we create, siphoning flow from contrast, to create our perfect day.
Our existence is our creativity & our creativity is our existence.
The ultimate intent is to shift perceptions & we are the first witnesses & primary beneficiaries of this power.
We organize what we organize & it, in turn, organizes us.
To reveal the hidden selves within us & within you.
To expand & deepen, us & you.
We enjoy ourselves very much—we maybe have more fun than most adults decide is possible—but fun is not the goal.
Fun is the fundamental necessity to achieving this expansion & deepening as individuals & as a duo.
We commit to this for ourselves, our communities, & the ever-expanding infini-verse.
We invite you to join us.
www.goofduck.com

Byung is the first name and moniker of instrumentalist/singer-songwriter BJ Choe.
As a 1st generation Korean-American who grew up in the bible belt, BJ has developed an eccentric music palette evidenced by the first album he purchased, Sisqo's Unleash the Dragon, his high school prog-rock band, classical guitar training, and contemporary church gigs. It was only shortly after discovering singer-songwriters like Justin Vernon, William Fitzsimmons, David Bazan, Ben Gibbard, Sufjan Stevens, and many others that stirred BJ to write songs that tell his
own story. Byung is ready to release a collection of songs that explore previous psychological melodies about memory, loss, relationships, and faith. For a decade, Byung has been developing these stories, setting lyrics to his layered ambient instrumentals, and discovering his voice. His debut record, Humid Memories, is set to release on September 2nd, 2022.
Proof of vax or negative test within 48 hours required for entry
Tim Kinsella and Jenny Pulse
Byung