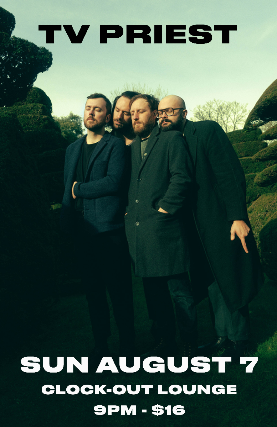 Crocodile Presents: TV Priest w/ Liily
with TV Priest, Liily
Sun
August 7, 2022
Doors: 8:30 pm / Show: 9:00 pm PDT
$18.00
The Crocodile Presents:
TV PRIEST
w/ Liily
8/7
$16 ADV / $18 DOS
8:30pm Doors / 9:00pm Show
21+
Without a brutal evaluation of their own becoming, TV Priest might have never made their secondalbum. Heralded as the next big thing in post-punk, they were established as a bolshy, sharp-wittedoutfit, the kind that starts movements with their politicalire. There was of course truth in that, but itwas a suit that quickly felt heavy on its wearer's shoulders, leaving little room for true vulnerability.
Having made music together since their teenage years, the London four-piece piqued press attention inlate 2019 with their first gig as a newly solidified group, a raucous outing in the warehouse district of Hackney Wick. Debut single "House of York" followed with a blistering critique of monarchist patriotism,and they were signed to Sub Pop for their debut album. When Uppers arrived in the height of a globalpandemic, it reaped praise from critics and fans alike for its 'dystopian doublespeak', but the band—Drinkwater, guitarist Alex Sprogis, producer, bass and keys player Nic Bueth and drummer Ed Kelland–were sat at home like the rest of us, drinking cups of tea and marking time via government-sanctioneddaily exercise. As such, the personal and professional landmark of its release felt "both colossal andminuscule" dampened by the inability to share it live. "It was a real gratification and really cathartic, buton the other hand, it was really strange, and not great for my mental health" admits Drinkwater. "I wasn't prepared, and I hadn't necessarily expected it to reach as many people as it did. It sounds a bitnaïve, but it was all very quick. It felt kind of divorced from reality."
http://tvpriest.bandcamp.com
Liily are four Los Angeles musicians - Dylan Nash, Sam De La Torre, Charlie Anastasis & Maxx Morando - who, up until now, were mostly known for their manic and cacophonous live shows. Those performances, alongside a couple of early singles packaged together into an EP entitled I Can Fool Anybody In This Town, drove the band to some surprising early successes: performing at Lollapalooza and Bonnaroo, touring across Europe and the United States, then finding themselves on the cover of Spotify and Apple Music's major rock playlists. But then, as quickly as they appeared, they seemed to vanish. Almost two years later, and now all of 22 years old, the band returned with their debut album TV or Not TV in October. It is a highly aggressive record, even more so than their early work. But here they jump from moment to moment and genre to genre, creating an experimental and original set of songs, all more strange and abrasive but also far more three dimensional than anything the band has done before. It still contains the unbridled energy of those early shows and singles but feels stripped of anything passive or unintentional. "I think thematically it's very different," says singer Dylan Nash. "I think the intensity of it is very different. I think we had the same intention though which is to completely obliterate people's ear drums - that's what it still has in common."
http://liilytheband.com
TV Priest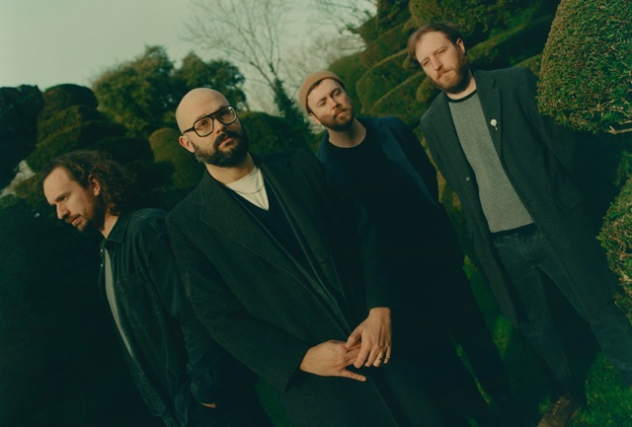 Liily