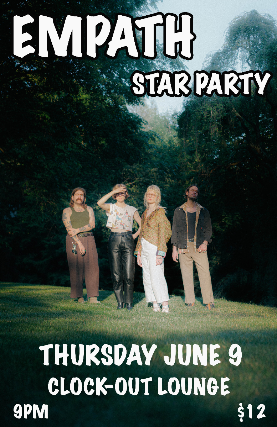 Crocodile Presents: Empath w/ Star Party
with Empath, Star Party
Thu
June 9, 2022
Doors: 9:00 pm / Show: 9:30 pm PDT
$15.00
The Crocodile Presents:
EMPATH w/ Star Party
6/9
$12 ADV / $15 DOS
9:00pm Doors / 9:30pm Show
21+
Proof of vax or negative test within 48 hours required for entry
Empath songs are messy and proud of it. Sometimes it feels as if all four of the band's members are playing different songs at once, until they agree to get along and coalesce into something spectacular. Their songs can sound muddy and indistinguishable on first pass, but repeated listens unlock all of the intricately moving parts. Soon enough you're grasping the music's internal logic, bracing for the parts where it all comes together. The band is intentional in its sloppiness. They know how to work their way up to those indelible moments, frothing around before giving in and pummeling into a hook that's sticky-sweet and serrated.
Empath have been at this for a while, and on their new album Visitor they sound better than ever. The group started as a trio — Catherine Elicson, Jem Shanahan, and Garrett Koloski — and in 2016 they released some commanding lo-fi blasts called Crystal Reality, recorded in a house in Philadelphia where you can actually hear the instruments bouncing off the walls back at them. It wouldn't be until 2018, when they added keyboardist Randall Coon to their ranks, that they would reach their full potential. On the compact, compressed, and invigorating Liberating Guilt And Fear, the band offered up three tumultuous pop songs followed by one sprawling, meditative ramble. That would serve as the blueprint for their first full-length, 2019's Active Listening: Night On Earth, which jutted tight structures against freeform atmosphere filled with birdsong and open air. The band's affinity for New Age-y acoustics is a stark contrast to the anarchy that they are capable of conjuring up, which is downright anti-zen.
Empath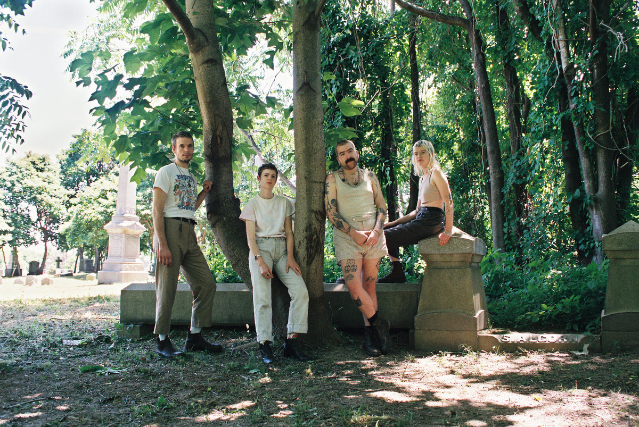 Ask the members of Empath how things have changed since the release of their critically-acclaimed 2019 album, Active Listening: Night on Earth, and they'll downplay it.
"We bought a wheelchair bus to tour in from the sketchiest dealership in South Jersey," drummer Garrett Koloski says. "And we have band credit cards now—did you know you can get a cash advance on a credit card? Pretty cool."
"I think we own the title now… but there have been a few complications," guitarist/vocalist Catherine Elicson interrupts, her skepticism palpable.
"I've had to quit my grocery job many times to tour, but they just keep hiring me back," synth player/engineer Randall Coon offers.
"Basically, this is a small business," keyboardist Jem Shanahan quips. "I have a credit score now, because of Empath."
It's in the band's nature to turn every question you throw at them into a joke, but the four friends from Philly have reached a point where they'll begrudgingly admit that this project is a nascent career, one that they can't help but fling themselves at with total abandon. "Our mindset is: we have nothing else but this band, so we'd better put all our eggs in this basket and hopefully take over the world," Elicson says, "Or crash and burn."
On February 11, 2021, Empath will release their sophomore full-length, Visitor, via Fat Possum, which marks a seismic shift for the scrappy quartet who came up playing shows on Northeastern DIY circuits and are now staring down a tour with Modest Mouse in the biggest rooms any of them have ever performed in. While the album holds steadfast to the careening, joyous noise Empath staked their name on, Visitor was produced by Jake Portrait, making it the first release the band has recorded with a producer in a formal studio. "Jake has the technical expertise to make anything sound like anything," Elicson says.
Inspired by the disquieting scores of Nosferatu (1922) and The Wicker Man (1973) alongside David Bowie's Low and forever favorites Fleetwood Mac, Empath sought to one-up the range of sounds heard on their previous album. During what he calls West Philly Christmas (the week undergrads at UPenn move out and leave piles of high-quality garbage out on the street) Coon recovered a suitcase organ with a sound bank from a Jamiroquai record preset on it, which he later played on the album, in addition to running samples on Ableton and acquiring a brand new synth; Shanahan, who plays a '90s children's keyboard, had Portrait filter it in such a way that it sounded "less childlike"; Elicson's vocals, buried deep in the mix on Active Listening: Night on Earth, take center stage; and Koloski's drums are as capacious as they might be in a live set.
"Our approach to songwriting, and what we constantly try to improve upon, is finding the meeting ground between all of our distinct points of view and ideas we are trying to achieve sonically and conceptually," Elicson says. "We never want to be tied down to one type of song or sound, and we love all kinds of improvisational music. We try to fit everything we love into each song, and hopefully produce something new and exciting through that process of synthesis."
Visitor attempts to fill space, both physical and psychic, visible and invisible. The album's cover was photographed by Andrew Emond, who captures the interiors of abandoned buildings. "The spaces look lived in and altered by humans but no humans are present," Elicson reflects. "The songs are similar in the sense that they talk about the 'space' between people. They're not about specific people per se, but they illustrate the feelings people leave between each other, these subjective experiences. You can think of Visitor as a soundtrack to the memories and feelings that remain in places people have left behind."
In the process of writing the lyrics to "Passing Stranger" and "Diamond Eyelids," Catherine patchworked memories together, prioritizing a likeness in sensation over the circumstantial. "History comes back to you in shards that I reach out to touch," she sings on the latter, a hint of desperation in her voice. "Tell me we create love in absence." Rather than compete, the song's two melodies coalesce, a sensation that's at once catchy and just slightly unnerving. "That song has pop sensibilities, but it's weird and heavy at the same time," Coon says. "That's definitely something we strive for," Koloski adds. "We want to throw all these experimental ideas in but at the end of the day, we want people to be able to sing along to it."
That ethos is audible on "Elvis Comeback Special," which builds itself into a frenzy for just under a minute before grinding to a halt. Cushioned by a lone synth progression, Elicson delivers the album's boldest hook as the rest of the band careens back into focus. On the muscly, two-chord progression of "Born 100 Times," the closest to a punk song Visitor has to offer, Elicson's razor sharp delivery serves as a counterweight to the instrumental onslaught. "We tried to balance the lyrical whimsy with instrumental heaviness and hoped to transcend both," Elicson says. It also boasts some of her best writing, distilling humid pangs of midsummer love in an unforgettable line: "You're soft like leather in the heat because devotion comes so easily, in every color you can dream."
Empath included a series of samples on Visitor, all of which cohere to make the album sound as if it's disrupting ambient noise. "Audio was taken from films, minecraft, a cassette of nature sounds from the Bayou, recordings of an air conditioner, and a church choir heard through the walls of the warehouse we rehearse in," Elicson says. "It's a collage of sounds intended to produce a feeling of hearing life through the walls." Visitor attempts to bridge the space between. It's an impossible task, surely, but the result of their efforts produces a transcendent experience all its own.
Star Party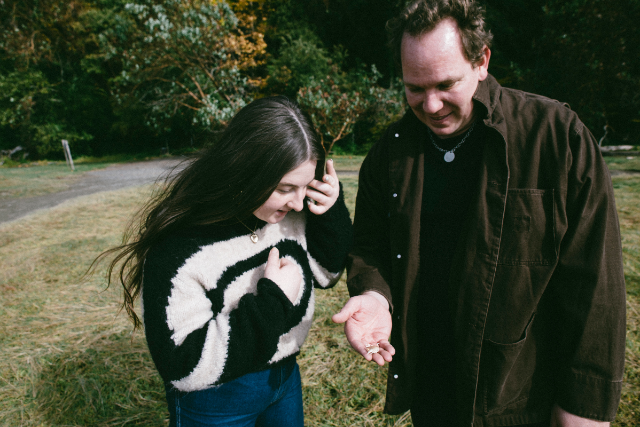 Star Party began in Seattle in March 2020 as a living room recording project between Carolyn
Brennan and Ian Corrigan (Gen Pop, Vexx) - both sharing a love of high energy rock n roll
music. The band percolated during trips to the high deserts of eastern Washington to pick sage
and see the sun as a brief reprieve from the misty and gray pacific Northwestern Spring. A few
months later, Star Party released Demo 2020 on Feel It Records, featuring two originals and
covers of The Shop Assistants' "Something to Do" and the classic "All I Really Wanna Do" (in
the vein of Cher's version).
Over the course of 2021, Star Party wrote and recorded their debut LP, Meadow Flower,
wherever and whenever they could. Employing like-minded Feel It label mate Caufield Schnug
of Sweeping Promises (who also moonlights as one part of Melody Men Mastering) to mix and
master the album, Meadow Flower follows a direct line from where Demo 2020 left off.
Brennan's soft and clearly American vocals float over waves of feedback and drum machine
racket like a delicate mist sitting just above a mountain lake. Melodies bob and weave inside an
omnipresent static that fills in every nook and cranny of the recording. Drawing from a quiver of
influences such as Black Tambourine, Confuse (JP), The Count Five, and of course The Shop
Assistants. Star Party's debut album seamlessly meshes together noise, melody, and harmony.