** SOLD OUT** Clock-Out Lounge Presents: The King Khan and BBQ Show w Miranda and The Beat DJ Duo Swain and The Ganj (aka Lacey and Kimberly)
with The King Khan & BBQ Show, Miranda and the Beat
Sat
October 8, 2022
Doors: 9:00 pm / Show: 9:30 pm PDT
$23.00
The King Khan and BBQ Show
w/ Miranda and The Beat, DJ Duo Swain and The Ganj (aka Lacey and Kimberly)
Doors 9pm 21+

Since about 2003, these two maniacs have been subverting culture, using a tried and true reverence for the holy spirit of real rock'n'roll, mixed with Grade-A songwriting sensibilities, and a penchant for sexually-charged and challenging live hijinks of the first order.
Arish 'King' Khan: guitar, vocals. His voice is mostly the 'snottier' one. His guitar is the 'lead' one.
Mark 'BBQ' Sultan: drums, guitar, vocals. His voice is mostly the 'smooth' one. His guitar is the 'rhythmic' one. The drums are played live with his feet.
Together, they are an entity outside of their own control:The King Khan & BBQ Show
Khan and Sultan have always done things exactly how they choose, mostly to their detriment, but with a sincere, deep-rooted understanding that fecal chickens do indeed roost. Their timeless anthems have stayed alive through the decades (!), and seem to always get picked up again by the next generation, organically.
Misguided trend or not, the song proves the timeless resonance and magic these warlocks wield. And is a testament to the power of alcohol and mushrooms.
The Pandemic, and its collateral mental health damage dealt quite a blow to the boys, as it did many others. The King Khan & BBQ Show was a perennial and stalwart touring favorite. While their catalog is very impressive, it's always been the live show that shone brightest, and allowed them to share their ribald humor and chaotic, surrealist energy to an appreciative and varied cult of underground fanatics. A live show whose ritualistic primitivism opens portals to parallel worlds, to invoke spirits and ghosts using magick, using their raw soul - for good or for bad - to evoke the smells and feelings that confuse and delight.
"'The King Khan & BBQ Show' is a real band. Sure, their sense of humor is dirty, often subversive, and their costumes ridiculous. But the seriousness of their love of music as holy communion should never be taken lightly. They live a lifestyle of pure love for the genre of rock'n'roll, respecting and understanding its basic tenets, while themselves recognized as lifers, representatives of what they see as an important legacy. They cut their teeth together in Montreal's 'The Spaceshits', a lightning fast rock'n'roll band formed in 1995, and have toured and paid numerous dues since, sacrificing their minds, bodies, souls, friends, family… All for love.
They care so much that they don't give a fuck."
The King Khan & BBQ Show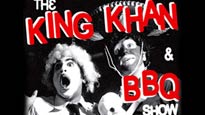 Miranda and the Beat